Glasses and Contact Lens Measurements and Dispensing
Fifth Avenue Associates offers a full-service optical shop with an expansive array of top quality, distinctive frames and high-quality lenses for a wide variety of eyewear needs. Our knowledgeable staff will help identify the best options for all eyewear needs.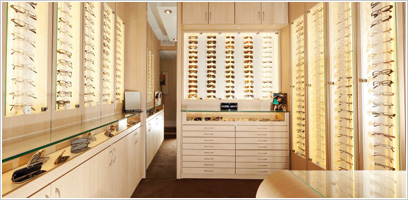 Fifth Avenue Associates Optical offers the convenience of a complete experience, from the initial full eye exam, to a new pair of stylish frames, and lenses optimized for every lifestyle. We also offer specialized sporting eyewear, including wrap sunglasses, as well as the Wiley X range of moisture chamber glasses to aid in the management of special conditions such as Dry Eye Syndrome, Facial Nerve Palsy, and Blepharospasm.
Contact Lenses
For those appropriate candidates who prefer to wear contacts, the eye care professionals of Fifth Avenue Associates are happy to assist. We will identify the proper prescription and fit each patient with the most advanced and suitable contact lenses available. We accept contact lens orders which can be shipped directly to you.

Ordering with us is simple. You can place your order by calling our office or directly on our website at www.helloabby.com (Your first online order will require an invitation to create a log in).

For more information about our optical shop or contact lens fittings, call 212-570-0707 today to schedule your complete eye examination.